Home
Bulbs
Flashtech LED Bulbs use 90% less power than comparable bulbs. This means you can run more than 10 of these with the same electrical power it would take to operate one comparable incandescent bulb. And using less power means less heat is generated, which practically eliminates the 'burning' of lenses of covered light fixtures.
Flashtech ultra-bright automotive LED bulbs have a 10,000 hour life expectancy without significant degredation of brilliance. That's 50 times longer than an incandescent bulb, who's brightness degrades rapidly. These bulbs produce more than twice the lumens than other LED bulbs of comparable wattage. For other replacement LED bulbs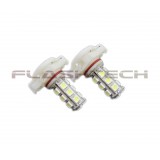 Flashtech 5202 H16 LED Bulb with 18 SMDs per Bulb. These bulbs can be used in the following ..